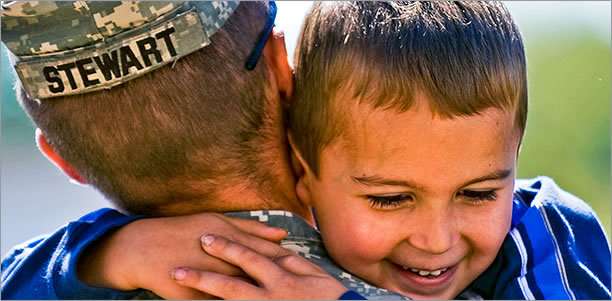 A Memorial Day Message
| | |
| --- | --- |
| This Memorial Day, as we collectively honor those who have served our country with honor, courage, and distinction, we feel both elevated and disheartened. Elevated because of the rare and noble dedication of the young men and women who have safeguarded our nation through their military service. Disheartened with the reality that so many who served now bear the hidden wounds of that service. | |
The statistics are unbearable—with one stat in particular that is shocking: 22 veterans commit suicide every single day in America! And most distressing, according to a government report, none of the current treatment approaches effectively address the epidemic of PTSD among the more than 300,000 veterans.
This Memorial Day message is not only to salute those who have given so much for our country. It is an urgent call to action for all of us to help those who are suffering so greatly with the trauma of war.
Hear one family's story
of healing from the traumas of war

Published research shows that Transcendental Meditation reduces the symptoms of post-traumatic stress among veterans of the Vietnam and Iraq and Afghanistan conflicts by a stunning 40 to 50 percent within 60 days of starting the practice. No other treatment shows such power and promise.

Yes, we are working to secure funds from
government agencies to bring Transcendental
Meditation to as many vets as soon as
possible. But the wheels of government grind slowly. It can take years, and that is something no veteran with PTSD can afford.
So, we turn to you, our friends and fellow meditators, to help us do something immediate and impactful—to share the deep peace of Transcendental Meditation with the men and women veterans who continue to suffer so terribly.
Please view this video about Jace, a veteran of the Iraq war who says his practice of TM saved his life. (Jace learned to meditate as a gift from the David Lynch Foundation's Operation Warrior Wellness.) And please give generously to ease the suffering of the hundreds of thousands of veterans who are desperately seeking inner peace.
Thank you in advance,

Robert Roth
Executive Director
216 E 45 STREET • NEW YORK, NY 10017 • +1-212-644-9880 • info@davidlynchfoundation.org
Copyright 2014, David Lynch Foundation. All rights reserved.