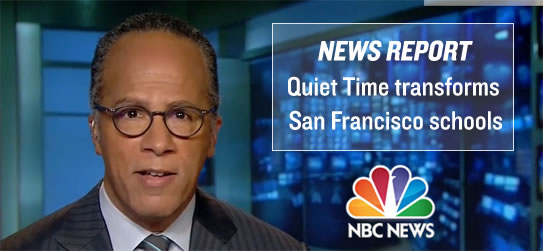 NBC Nightly News reports on the effectiveness of the Quiet Time Program with Transcendental Meditation in lowering violence, suspensions and absenteeism and improving academic performance in two troubled schools in San Francisco.
Bill Kappenhagen, Principal of Burton High School, said, "Quiet Time has been found to increase focus and stimulate a sense of calm, not just during meditation, but also for the rest of the day."

216 E 45 STREET • NEW YORK, NY 10017 • +1-212-644-9880 • info@davidlynchfoundation.org
Copyright 2015, David Lynch Foundation. All rights reserved.