You are warmly invited to spend a rare evening with iconic filmmaker David Lynch, CNN anchor Candy Crowley, and special guest renowned Bethesda psychiatrist Norman Rosenthal, M.D., who first described seasonal affective disorder (SAD) and the author of the new book Transcendence: Healing and Transformation through Transcendental Meditation (Tarcher/Penguin June 2011).
The evening will be held in American University's Katzen Art Center, Abramson Family Recital Hall, 4400 Massachusetts Avenue, on Wednesday,June 8, from 6:30 p.m. to 9 p.m.
You will find out how Transcendental Meditation is being used in the Washington, DC, area to help at-risk students, veterans with PTSD, and children with learning disorders overcome stress, anxiety, depression, and ADHD—while improving their creativity, focus, and mental resiliency.
You will also find out how it can improve your life as well...
This invitation to you and a guest is nontransferable. Thank you.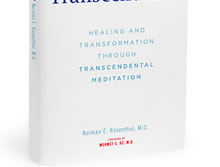 Early word on Dr. Rosenthal's
Book
"A profoundly
important book. Incredibly valuable." —Dr. Mehmet Oz
(from the Foreword)
"Whether your
troubles are deep or
you simply know life
could be better and
healthier, read this
book."
—Candy Crowley,
CNN anchor
"A very enjoyable
read that can change
your life, for good."
—David Lynch